Description
Powerful Octa-Core processor
Google map-ready
Fastest boot speed 1s
Phone Mirroring
Steering wheel control
4GB RAM+64GB ROM
Bluetooth 5.0
Brand: Pumpkin
SKU: AA0512B+Y0811
Pumpkin Upgrade Audio Car Music System Double Din Android 10 Bluetooth Car Stereo 7" Apple Carplay Radio with 4GB RAM and 64GB ROM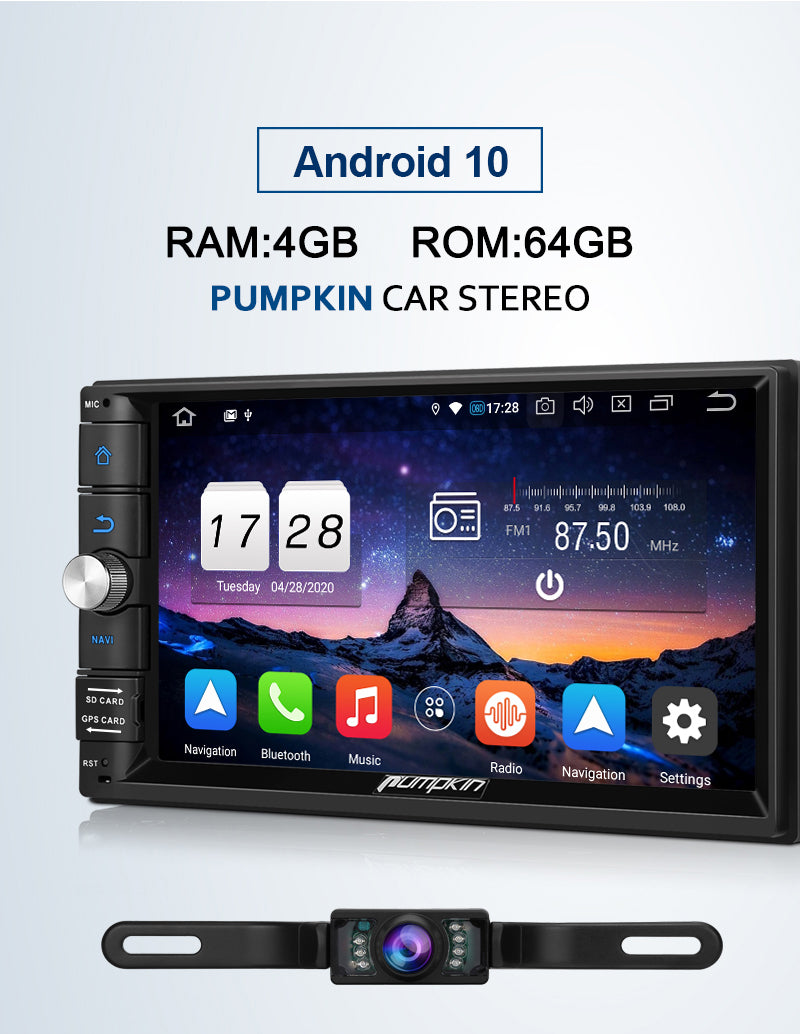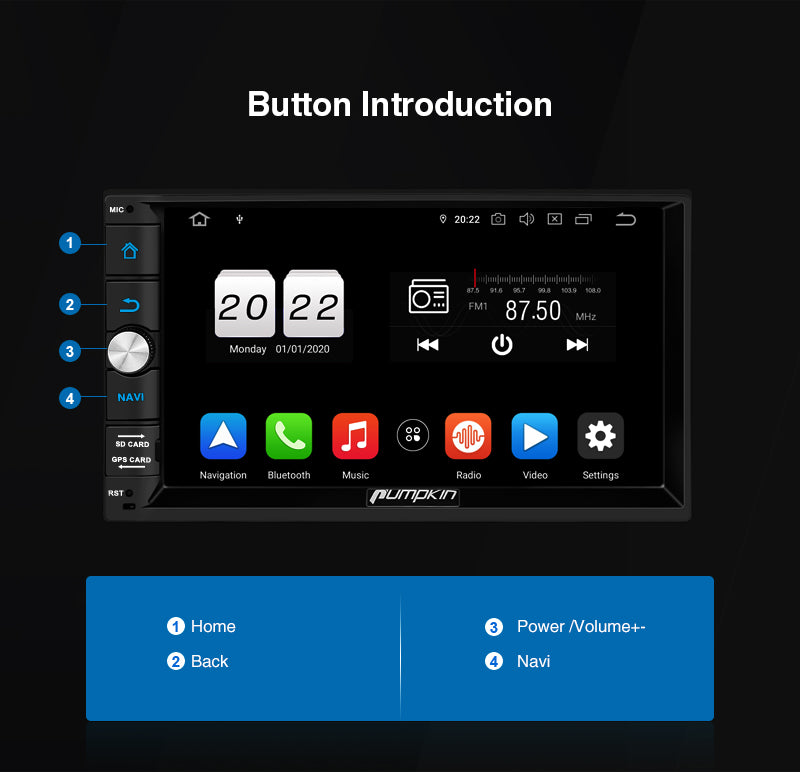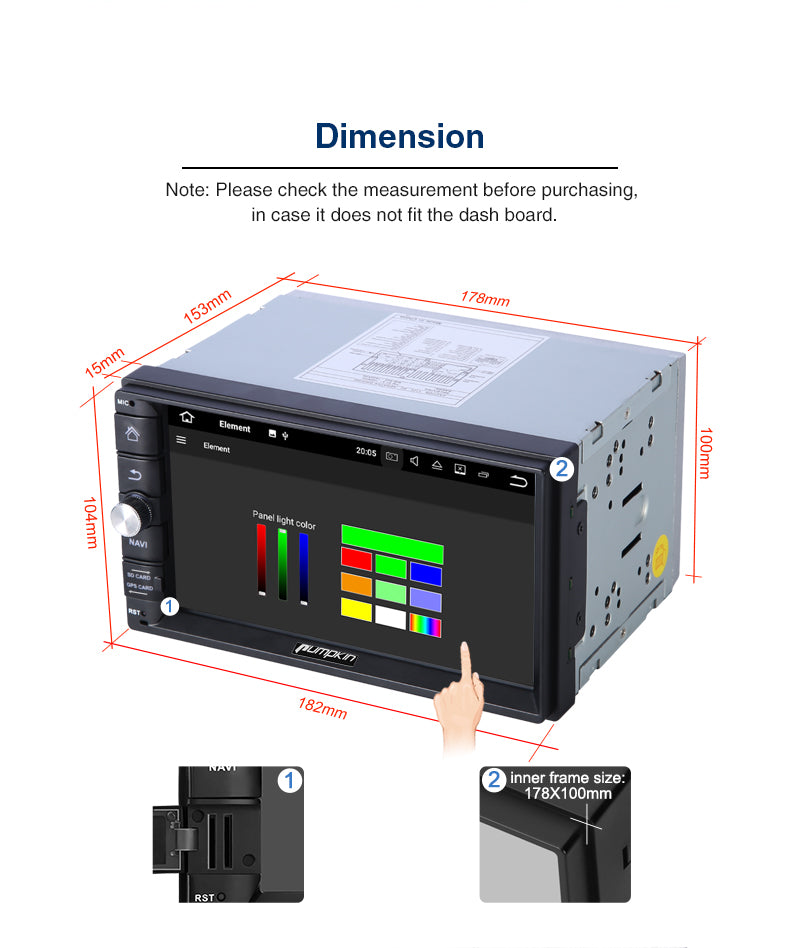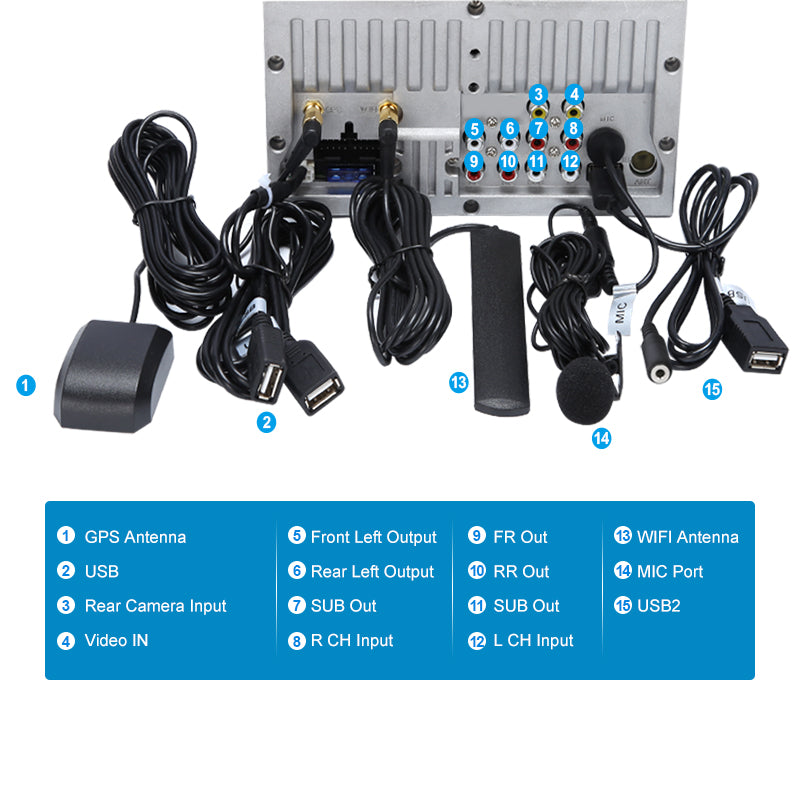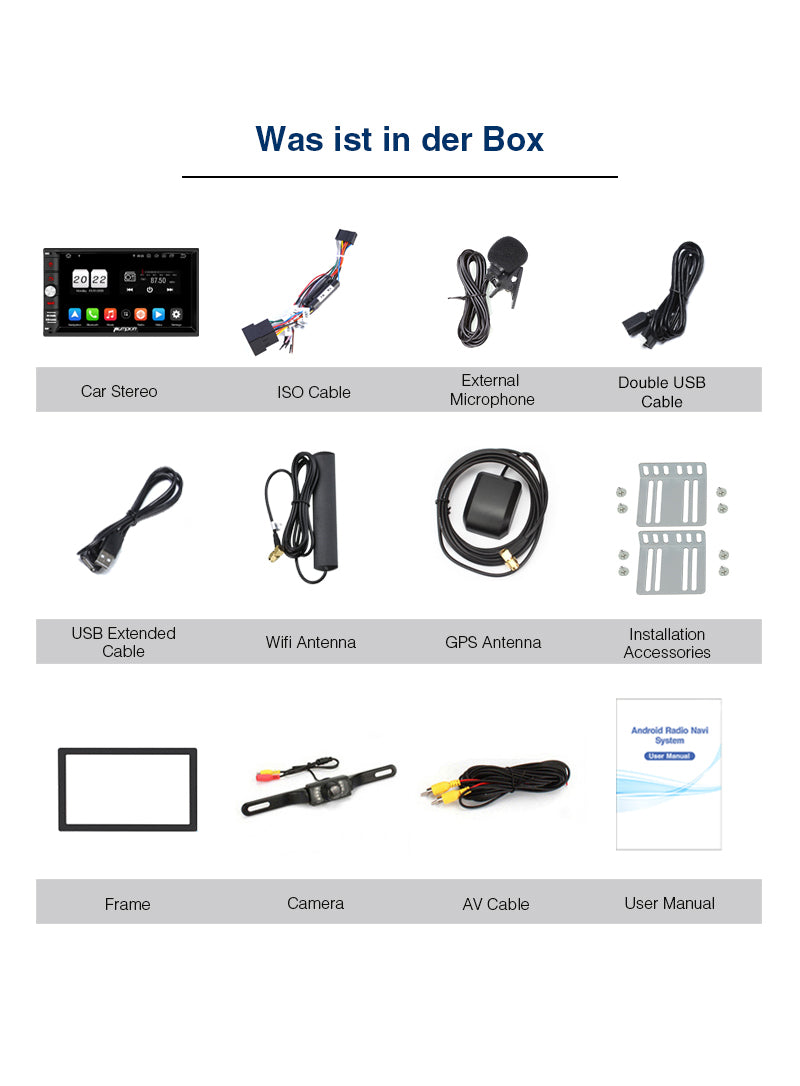 Applicable style
Pumpkin 7" universal car stereo system is designed to work in most vehicle applications for car brands such as:  Ford F150, Acura, Alfa-Romeo, Audi, BMW, Buick, Byton, Cadillac, Chevrolet, Chrysler, Citroen, Cupra, Dodge, Fiat, Ford, Geely, Genesis, GMC, Honda, Hyundai, Infiniti, Jaguar, Jeep, Kia, Lancia, Lexus, Lotus, Maybach, Mazda, Mercedes, Mini, Mitsubishi, Nissan, Opel, Peugeot, Pontiac, Ram, Renault, Rivian, Skoda, Smart, Subaru, Suzuki, Toyota, Volkswagen, Volvo, etc. (Extra frame and adapter may be required.)
Powerful Octa-Core processor
This Pumpkin aftermarket head unit is powered by Rockchip Octa-Core processor to bring you a quick response and consistent connectivity for a stream of radio news and weather reports, shared music playing, and APPs running.   
Power-saving Bluetooth
A customized Bluetooth module BC6 is developed based on supporting calls and playing music in low consumption of power. According to repeat test results, the connection speed with HUAWEI Mate 10 is up to 200kb/s. This car Bluetooth also supports synchronizing phone books, quick searching for contacts, and is compatible with external microphones.
Hands-free calling is accessible with the built-In microphone in the control panel, if you expect a crystal clear calling effect, plug in an external microphone only takes you 1 second.     
Unparalleled Hi-Fi class distortion performance amplifier
Built-in TDA7851 amplifier IC features by the output structure of rail-to-rail output voltage swing and combines with high output current and minimized saturation losses that contribute to the unparalleled Hi-Fi class distortion voice performance and low output noise.
Google map-ready
Supports GPS Navigation, Pre-installed Google map(without offline map data). Both online navigation APP and offline are available, as well as 3D maps and voice guidance. Radio, Bluetooth, USB, and SD playing will not be interfered while navigating.  
WIFI-ready
With built-in WIFI modem, turn on WIFI function to search and connect to any free WIFI Hotspots, you can easily download any APPs or play music and videos online.
(Note: It comes with 1.5m long WIFI antenna for better signal reception.) 
The fastest boot speed
This in-vehicle infotainment system only takes 1 second to boot after being installed while others may take about 30 seconds. 
Phone Mirroring
Mirror your phone's online GPS on this car audio system for a wider view of navigation outlook is the handiest use of this function.
For the Android phone, you can mirror and control the unit via USB cable connection. If using AirPlay for an iPhone, only mirror on the unit via WIFI  connection is available. (support Android 7.0)
Steering wheel control
Answer the phone call or adjust the radio volume while remains your eye's on the road is vitally important for the safety concern, with steering wheel control function, the safe drive is all under control. (Attention: Only support resistance based analog signal input steering wheel) 
External antennas
Faster Bluetooth access is achieved thanks to these external antennas, and less power consumption required if you choose Bluetooth tethering connection, just remember to turn it on before using. If you are using an Apple phone, please turn on your Hotspot WIFI sharing first before connecting the car stereo Bluetooth.
Multi-color button  
To improve the visual appeal of your car inside, multiple colors of button light are optional to match the color of your car. 
Support Android Auto APP (Extra device NA7006B required)
An extra Pumpkin AutoPlay Dongle enables any Pumpkin car infotainment radio to install the APK from the TF/SD card it provided. This Dongle supports both Android and Wince car stereo systems, and available for iPhone and Android phones.  
DAB+ Digital Radio (Extra DAB+ box NA7021B required)
Digital Audio Broadcasting presents you all variable stations in one single list and detailed information about the program you play with a much better reception quality, which gains a great deal of reputation in European countries mostly, but Canada, Australia, Mexico are all covered.
OBD2 (Extra device required)
Compatible with most of Bluetooth type ELM327 OBD2 scanner and WIFI OBD2 (Search VE0003B/Y0034 on our store)
Compatible Application: Torque
Display Data: Real-time data and trouble codes from vehicle computers.
(Attention: Few cars may not support the ECU reading accessing, those cars will not work this function.)
Cam-In/Rear camera (Extra device required)
Support RCA type rear camera input, automatically trigger the rear camera when reversing the car.
Payment & Security