Description
PX5 Octa-Core processor
Google map-ready
Universal car applicable system
1s fastest boot speed
4GB+64GB Storage
Brand: Pumpkin
SKU: AA0512B+Y0801  (Updated Version of AA0495B)
Pumpkin Android 10 Head Unit Double Din Car Stereo Audio with Bluetooth Sat Nav In Dash 7 inch Touch Screen Car Radio with Backup Camera(4GB+64GB)
Key Features
Double Din Android 10.0 Car Stereo with Superb Sound Quality : Developed from latest Android 10 OS,deeply optimized to let it perform better in auto.This double din car audio boasts 5-volt 5-channel pre-amp outputs (front,rear,subwoofer outputs),Ultra powerful pre-amplifier with higher RMS power output which give you impressive sound quality.The Double din car stereo GPS features FM HD Radio for digital broadcasts,and accepts all sorts of music file formats such as MP5,MP3,WMA,FLAC,etc.
Convenient Controls Bluetooth Car Stereo: The main advantages of any android double din car audio is the ease of going through the menus.A big,colorful touch screen makes finding functions intuitive and simple.The HD 1024*600 capacitive touchscreen that we sourced for this bluetooth car stereo is marvelous.The interface of this double din head unit is fluid and you'll grasp the gist of it in minutes. Control the whole double din car audio just with your fingers.
Bluetooth Car Audio with Navigation: Having a android double din head unit system makes a huge difference when it comes to seeing where you are and how to get where you need to be. our android double din car stereo is supported by double positioning satellites, the signal for your car is more stable and accurate.Online gps app and map also be supported,after connected to WiFi.2 din Android head unit GPS with built-in microphone, which makes your call more clear.
Car Stereo with Backup Camera Video Input: A rear-view camera can help make your Android bluetooth head unit a valuable tool against accidents,because you never know what you'll see behind you.Its wide field of view offers more of what's behind you than using mirror, including areas that your vehicle's body blocks from view.The bluetooth double din head unit will turn into the parking mode automatically when reversing.Our 2 din bluetooth car stereo is dedicated to ehance your driving safety.
Dual Mirror Link & Steering Wheel Control: We uses Dual Mirror technology and it has both wireless and wired connectivity.The technology mirrors a screen of an iPod,iPhone and Android smart phone that can be connected using the usb to reach the bluetooth car audio receiver touch screen.Operating a 2 din head unit with gps bluetooth while driving sometimes can be dangerous.To make your driving safer,Factory Original Steering Wheel key Control can still be retained.Your BEST DRIVING PARTNER.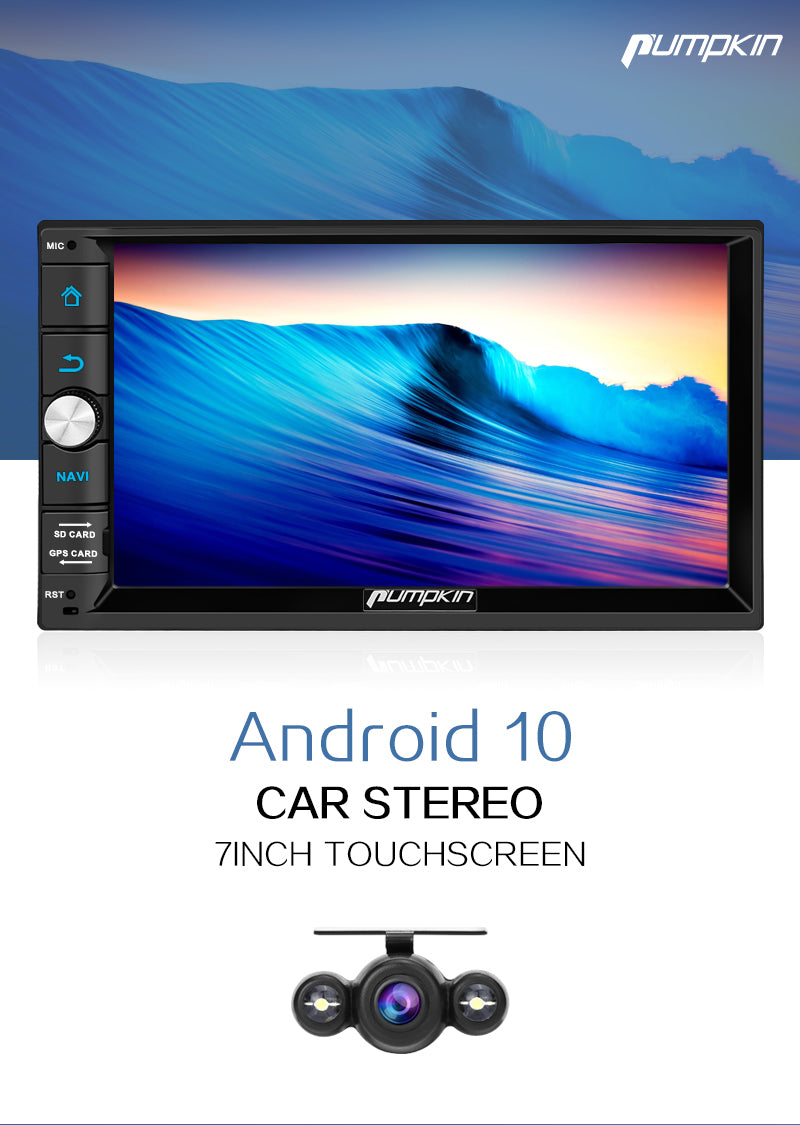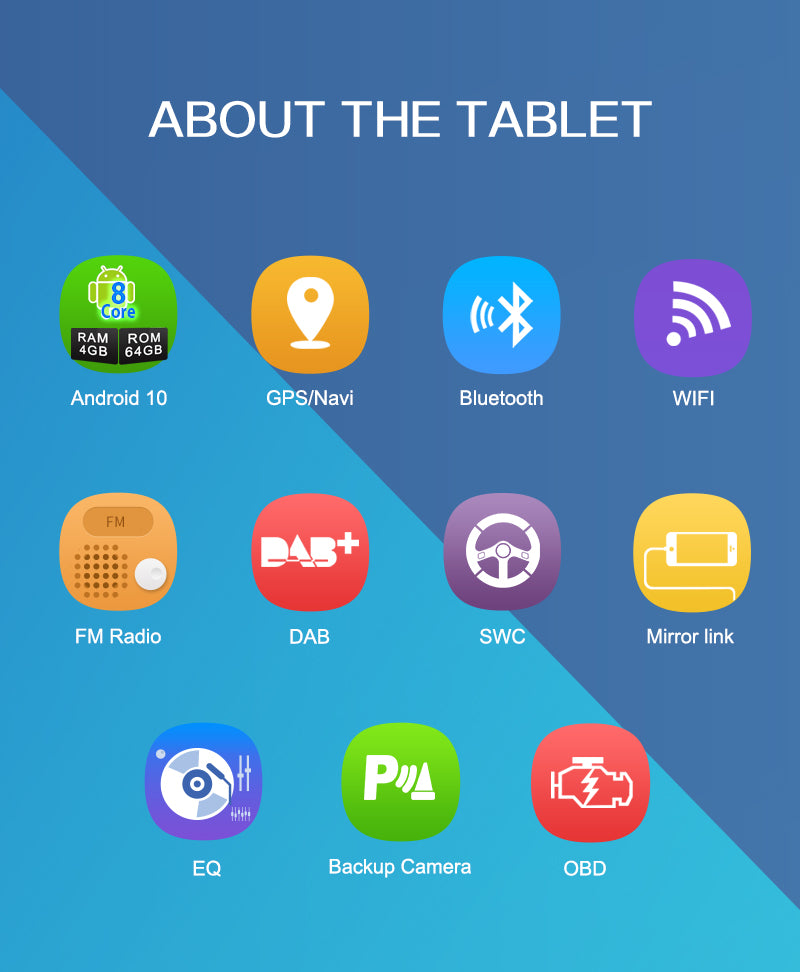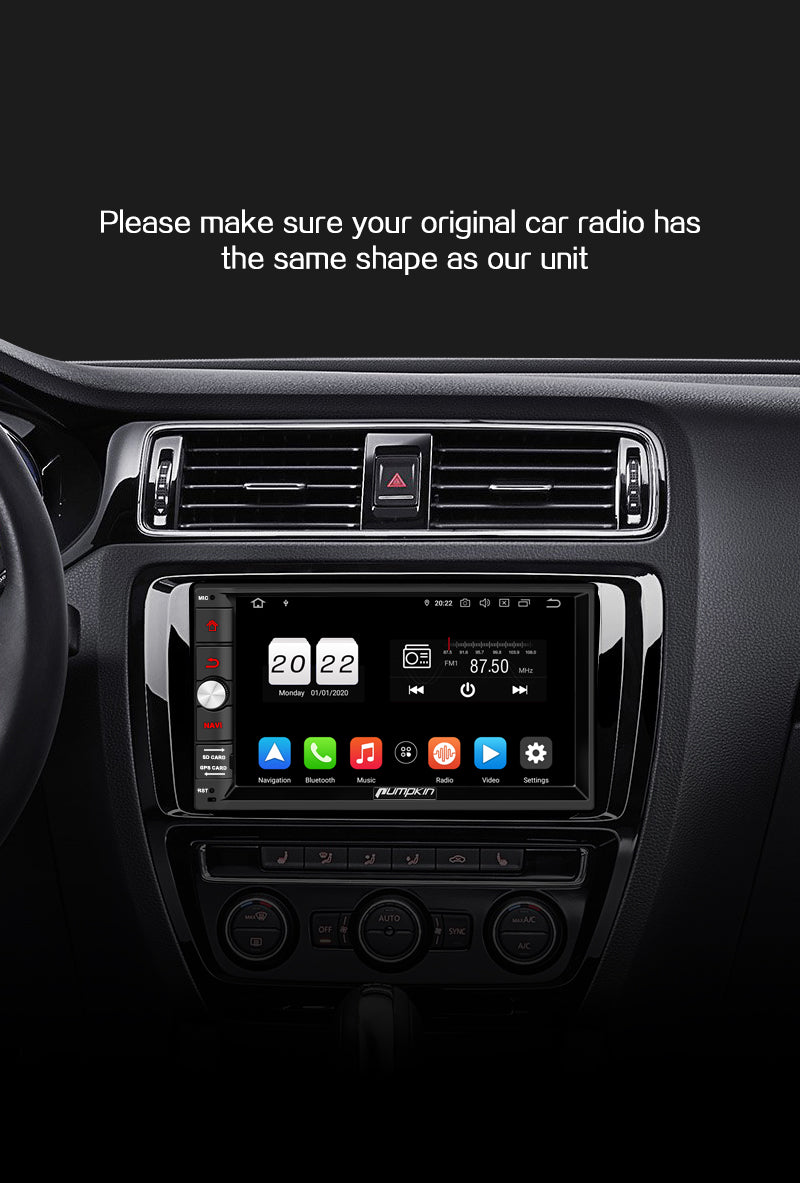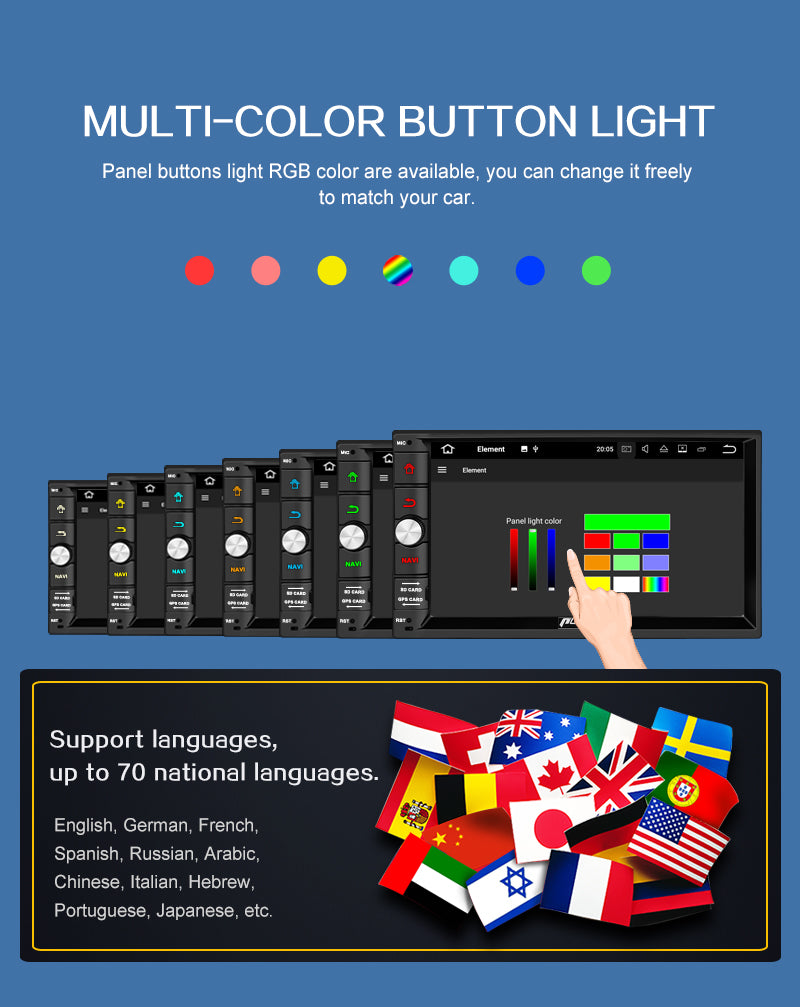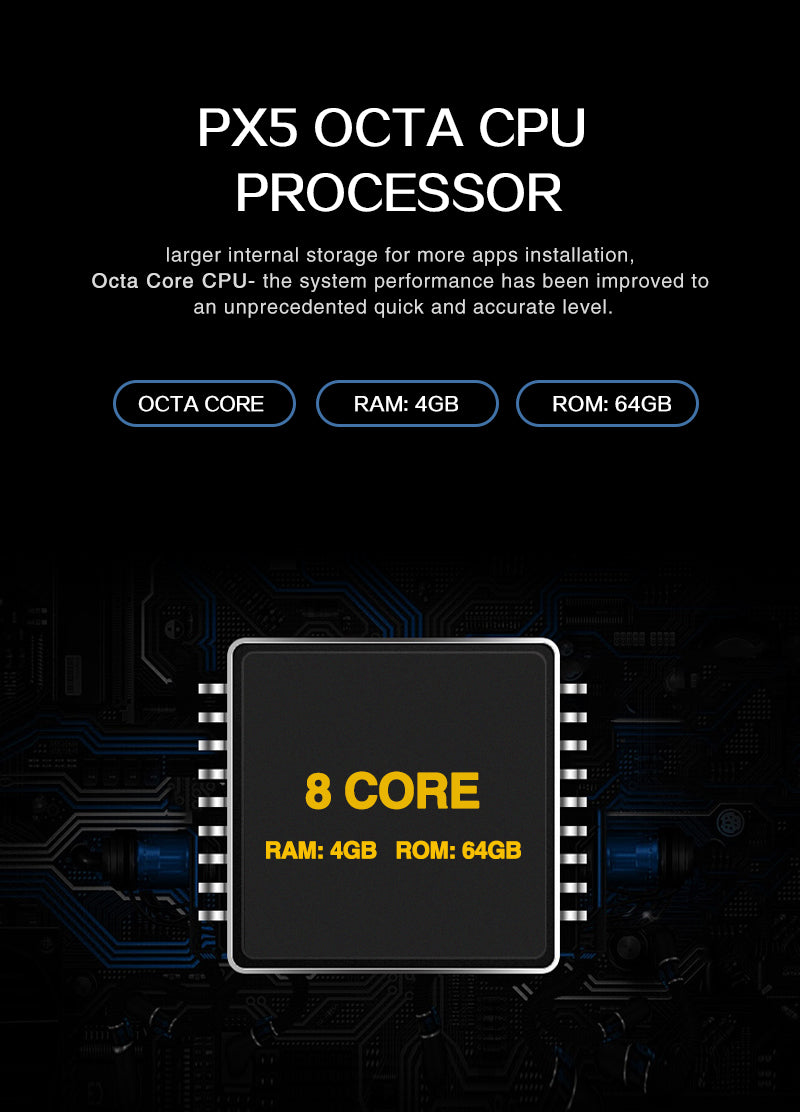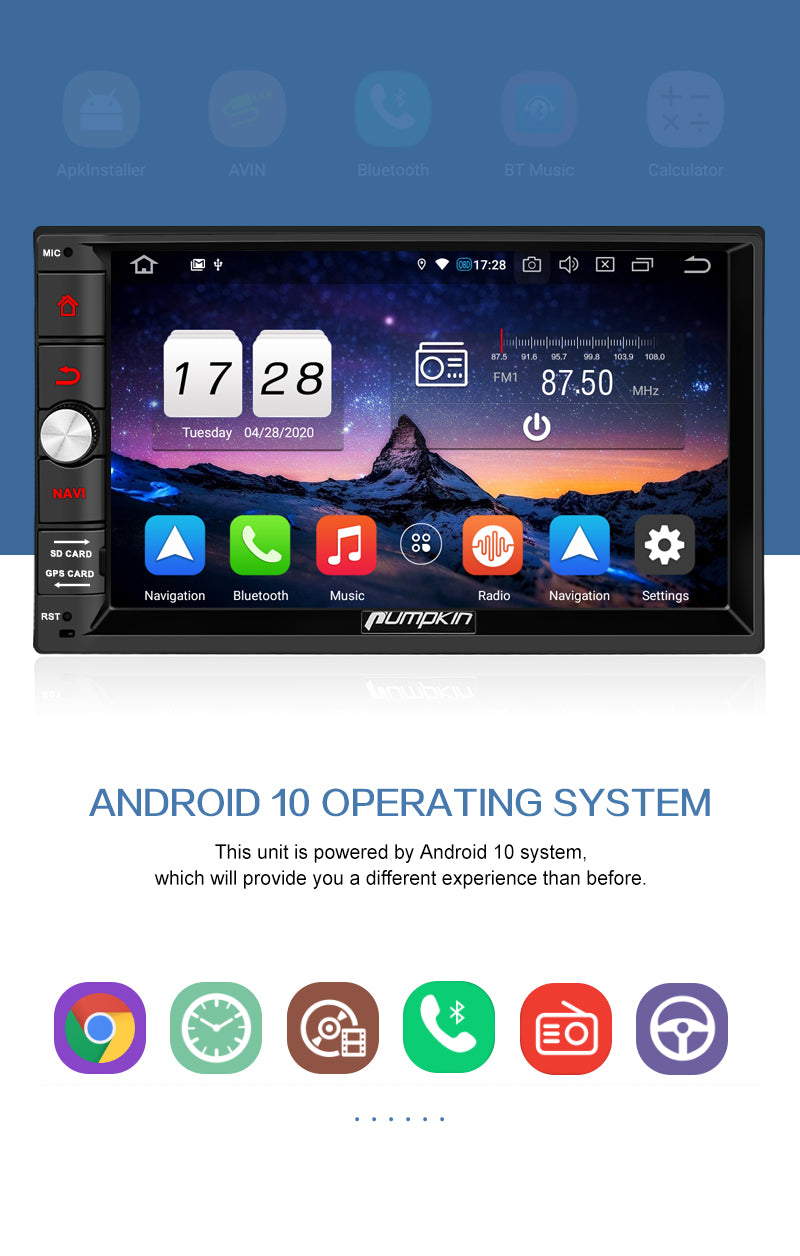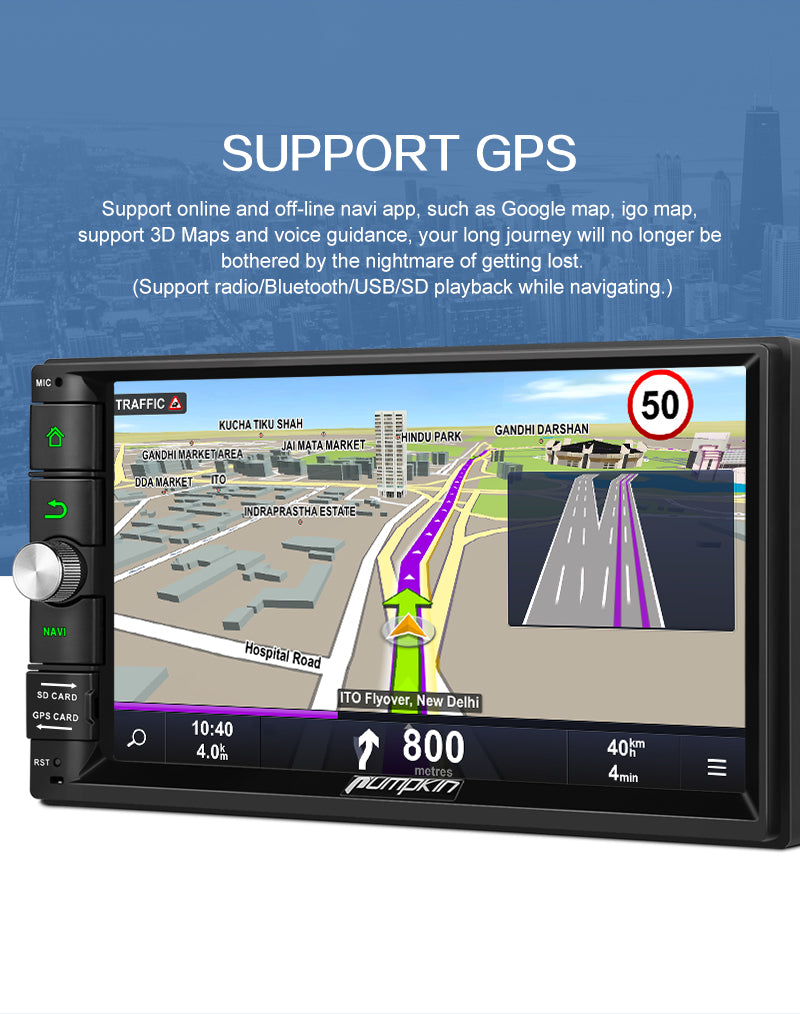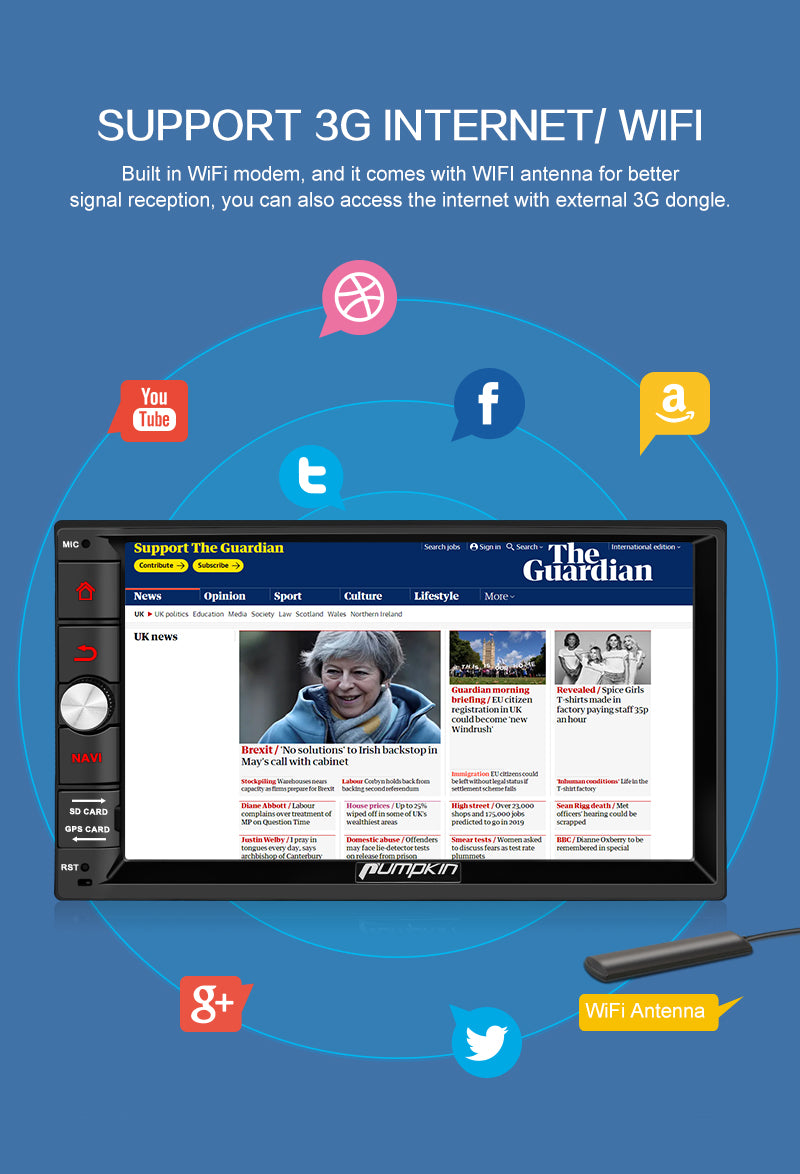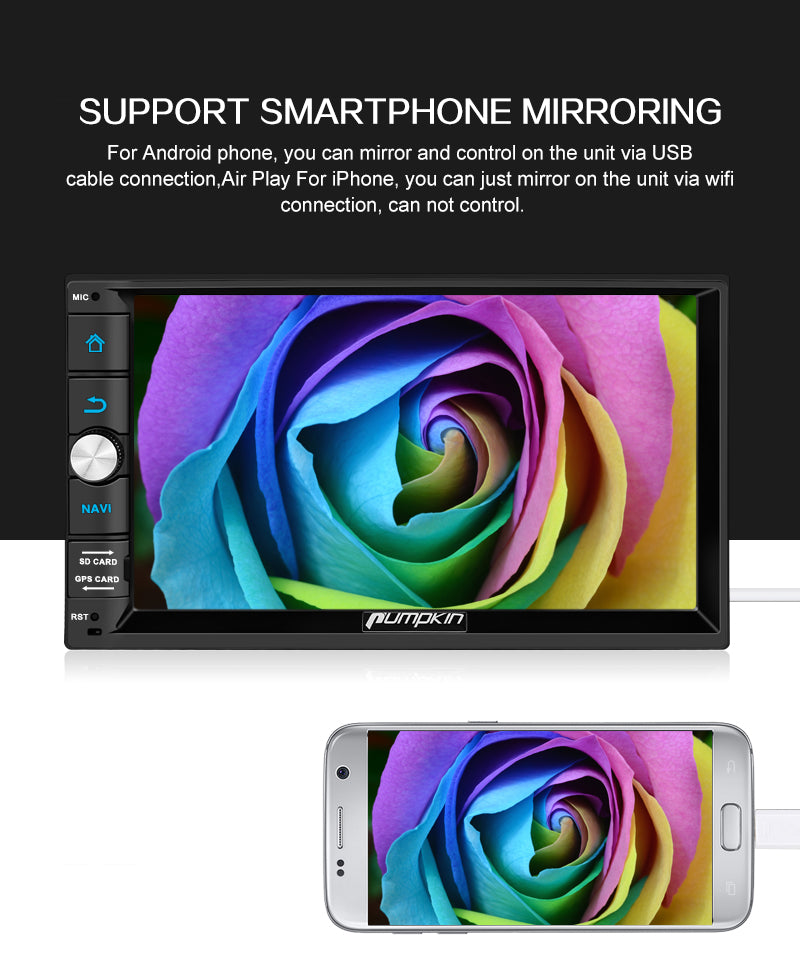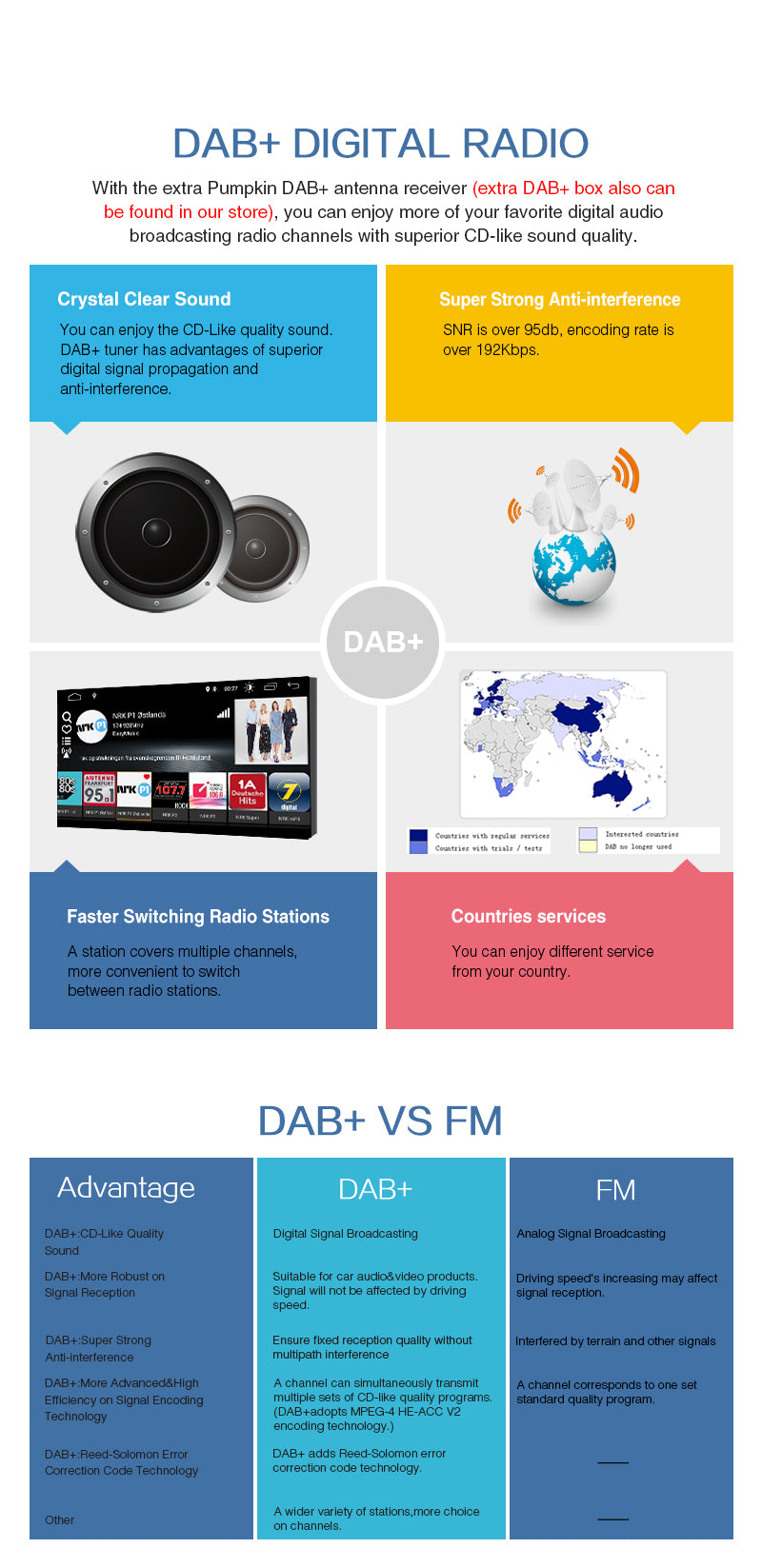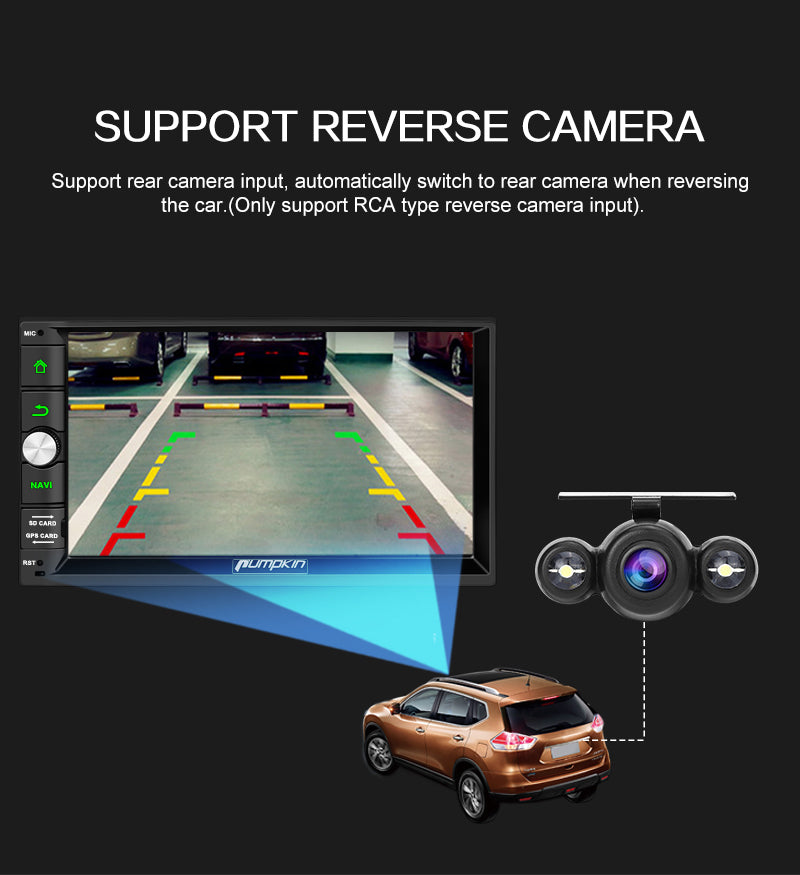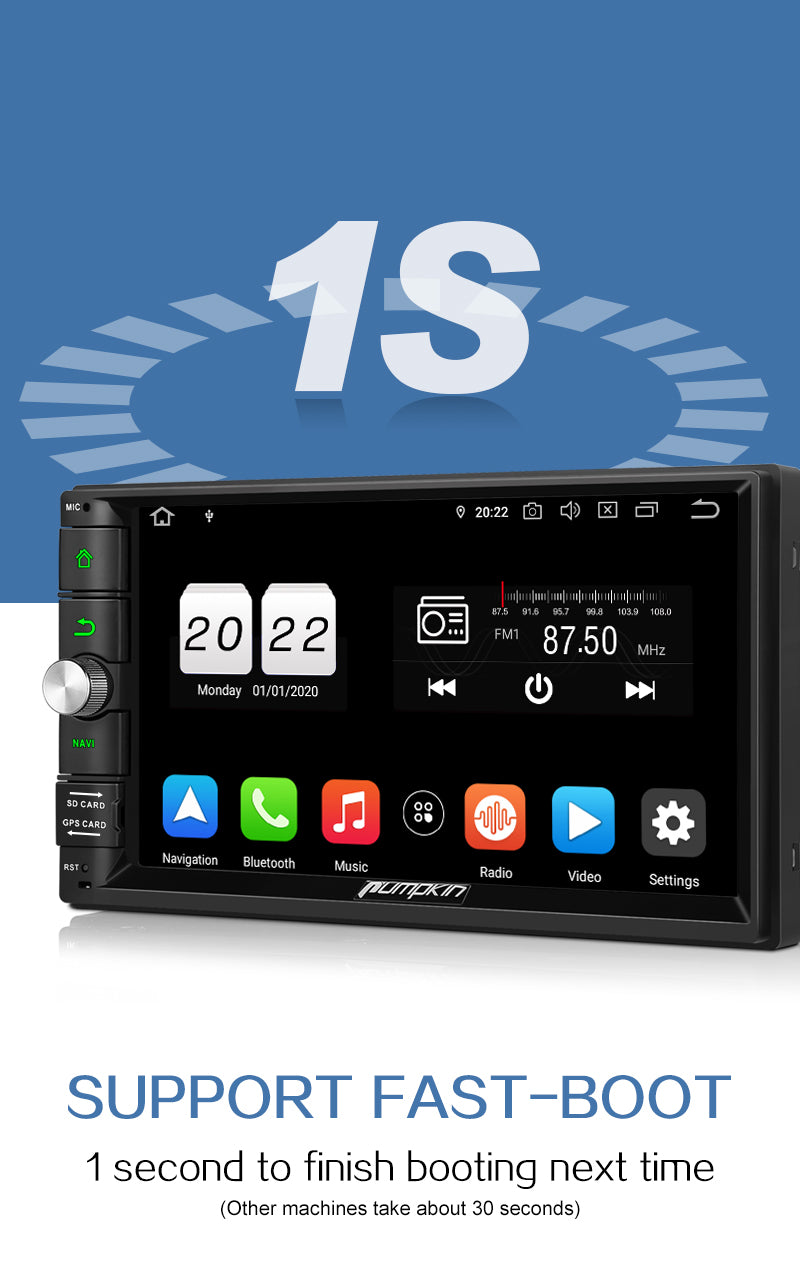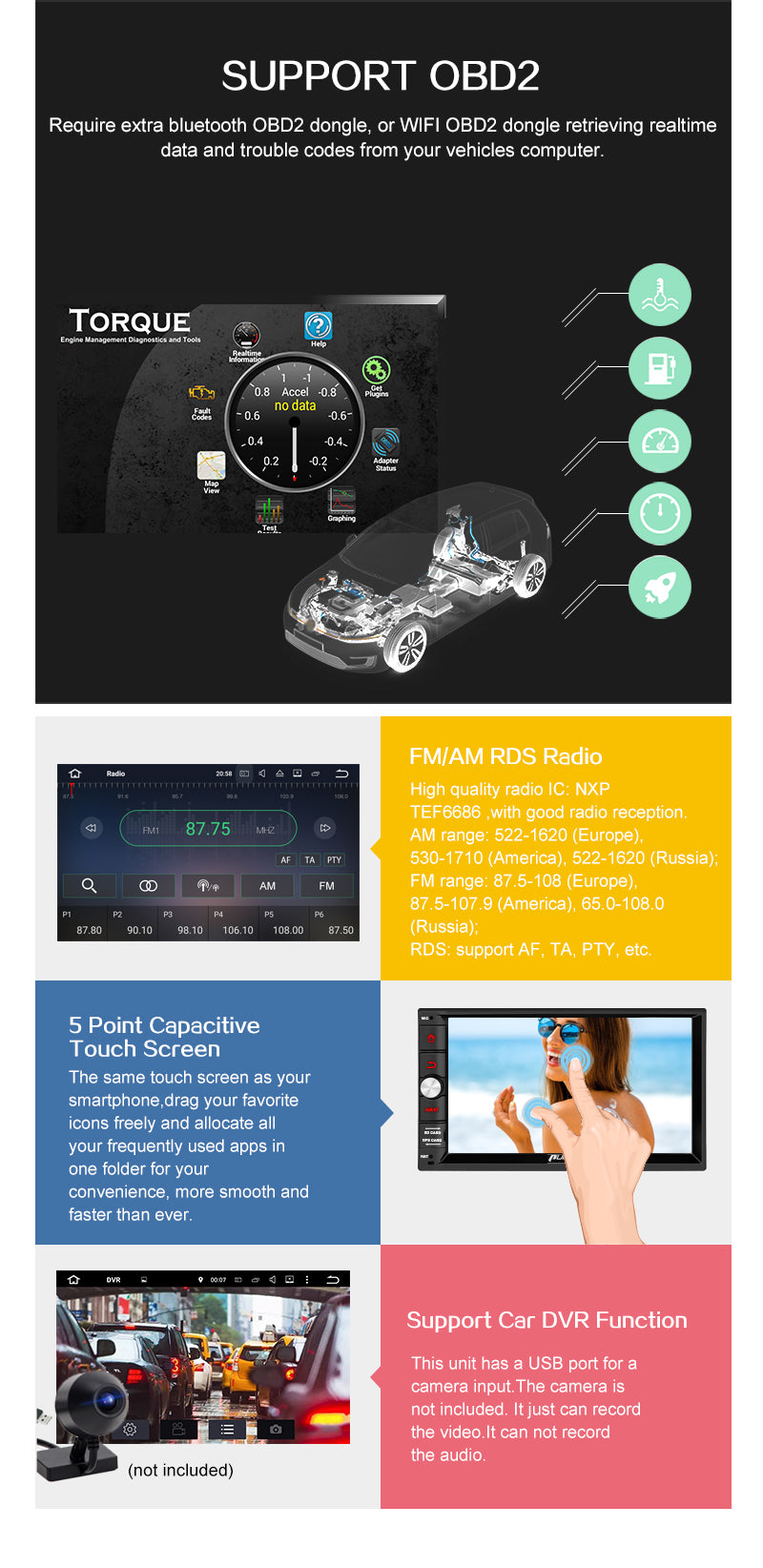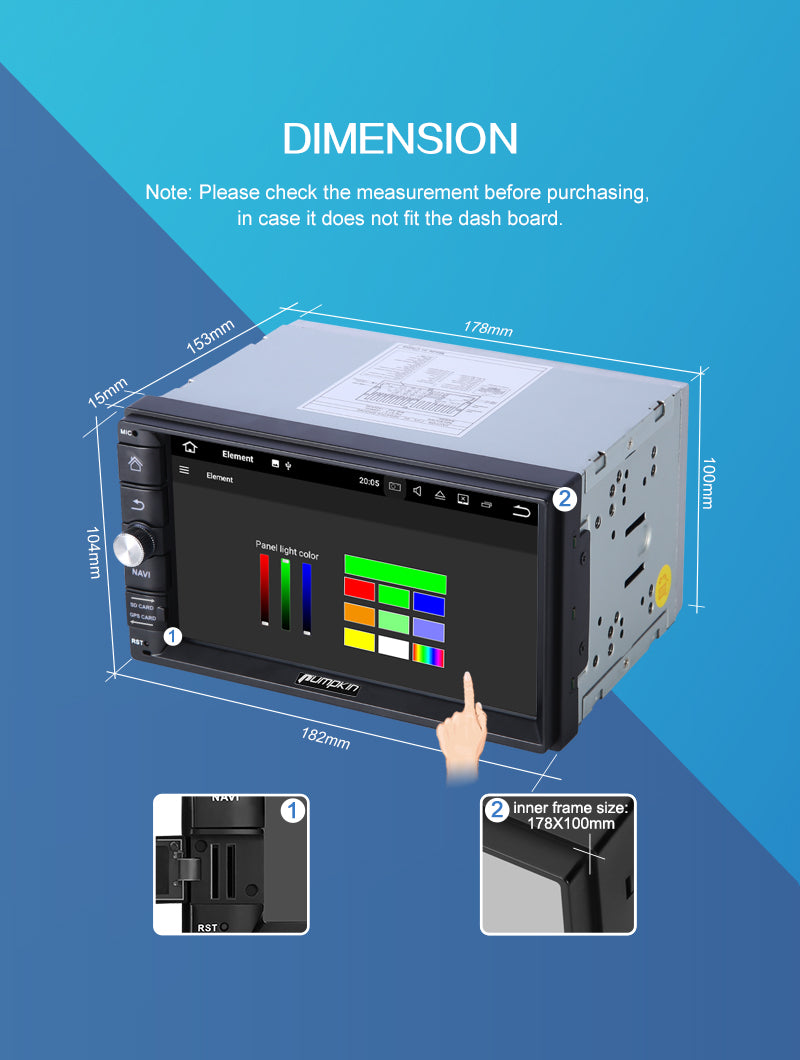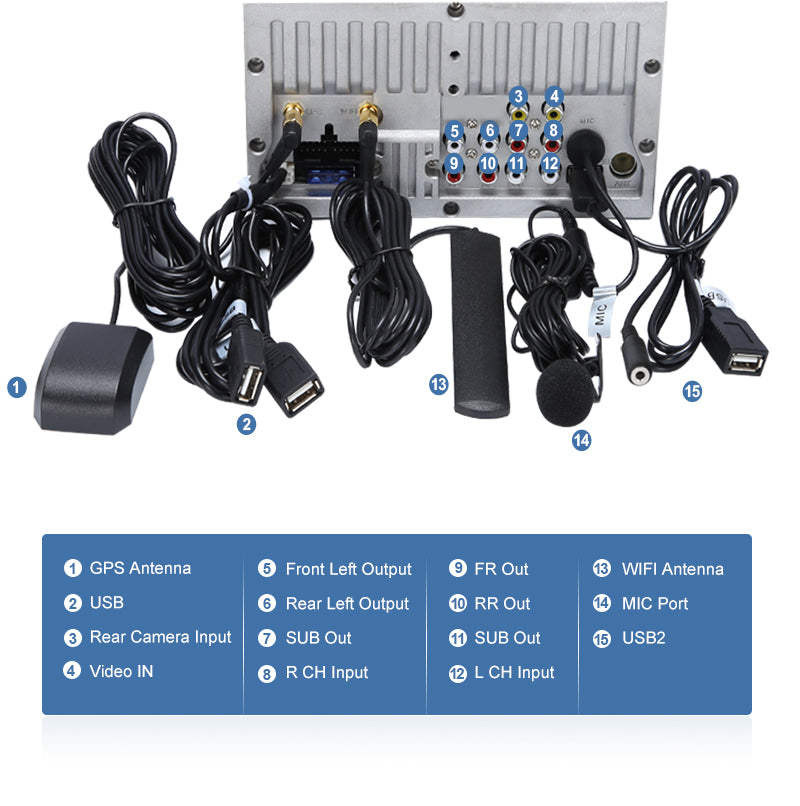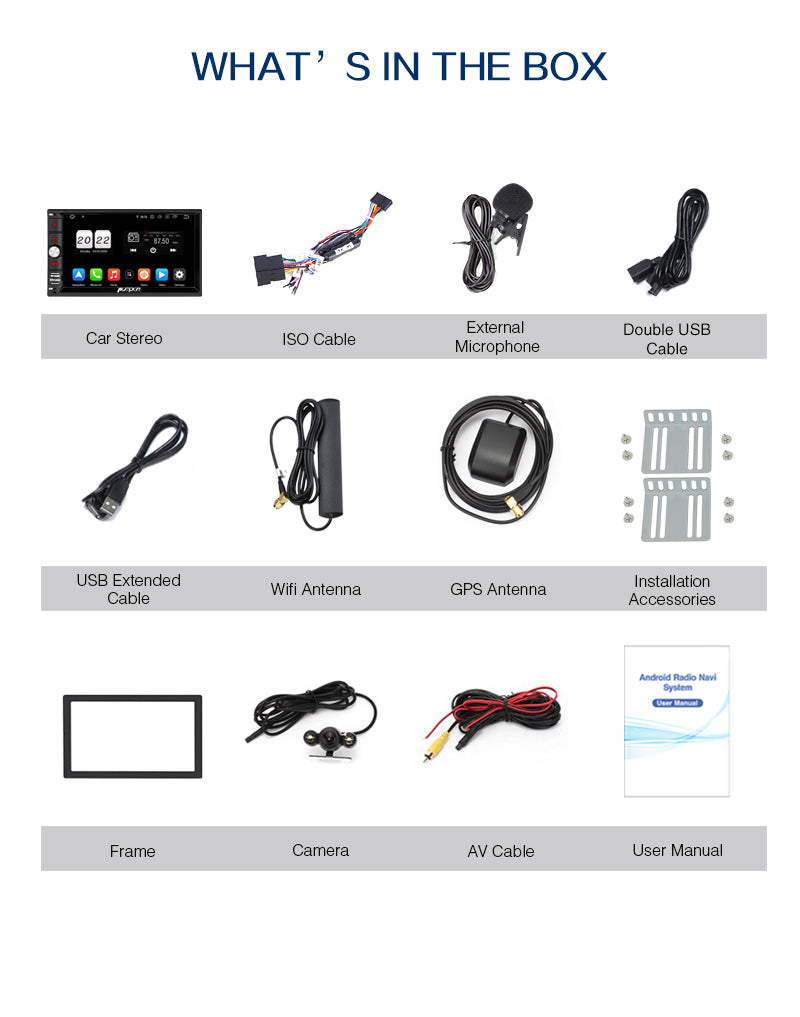 1. Powerful Octa-Core processor
This Pumpkin aftermarket infotainment system is powered by Rockchip Octa-Core processor to bring you a quick response and consistent connectivity for a stream of radio news and weather reports, shared music playing, and APPs running.   
2. High-performance radio IC (Integrated Circuit)
NXP's single-chip TEF6686 IC is adopted by this Pumpkin car infotainment radio for a wide tuning range of 87.5 MHz to 107.9 MHz (FM) and the AM receiver from 530 to 1710 (LW, MW to full SW) are all covered, which enables this infotainment media comes in low phase noise and fast tuning, even weak signal quality can be assured after being detected and processed. Subwoofer audio output is also achieved by this EQ.
Radio Broadcast Data System (RBDS) is also available with the basic information display including time, station identification and program information, useful information like TA (traffic announcement), TP (traffic program), and TMC (traffic message channel) are all approachable.
3. Power-saving Bluetooth
A customized Bluetooth module BC6 is developed based on supporting calls and playing music in low consumption of power. According to repeat test results, the connection speed with HUAWEI Mate 10 is up to 200kb/s. This car Bluetooth also supports synchronizing phone books, quick searching for contacts, and is compatible with external microphones.
Hands-free calling is accessible with the built-In microphone in the control panel, if you expect a crystal clear calling effect, plug in an external microphone only takes you 1 second.     
4. Unparalleled Hi-Fi class distortion performance amplifier
Built-in TDA7851 amplifier IC features by the output structure of rail-to-rail output voltage swing and combines with high output current and minimized saturation losses that contribute to the unparalleled Hi-Fi class distortion voice performance and low output noise.
5. Google map-ready
Supports GPS Navigation, Pre-installed Google map(without offline map data). Both online navigation APP and offline are available, as well as 3D maps and voice guidance. Radio, Bluetooth, USB, and SD playing will not be interfered while navigating.  
6. WIFI-ready
With built-in WIFI modem, turn on WIFI function to search and connect to any free WIFI Hotspots, you can easily download any APPs or play music and videos online.
(Note: It comes with 1.5m long WIFI antenna for better signal reception.) 
7. The fastest boot speed
This in-vehicle infotainment system only takes 1 second to boot after being installed while others may take about 30 seconds. 
8. Phone Mirroring
Mirror your phone's online GPS on this car audio system for a wider view of navigation outlook is the handiest use of this function.
For the Android phone, you can mirror and control the unit via USB cable connection. If using AirPlay for an iPhone, only mirror on the unit via WIFI  connection is available. (support Android 7.0)
9. Steering wheel control
Answer the phone call or adjust the radio volume while remains your eye's on the road is vitally important for the safety concern, with steering wheel control function, the safe drive is all under control. (Attention: Only support resistance based analog signal input steering wheel) 
10. External antennas
Faster Bluetooth access is achieved thanks to these external antennas, and less power consumption required if you choose Bluetooth tethering connection, just remember to turn it on before using. If you are using an Apple phone, please turn on your Hotspot WIFI sharing first before connecting the car stereo Bluetooth.
11. Multi-color button  
To improve the visual appeal of your car inside, multiple colors of button light are optional to match the color of your car. 
12. Cam in/Reverse Camera
Support RCA type rear camera input, automatically trigger the rear camera when reversing the car.
13. Other support functions (Extra device required)
Support Android Auto APP (Extra device required)
An extra Pumpkin AutoPlay Dongle enables any Pumpkin car infotainment radio to install the APK from the TF/SD card it provided. This Dongle supports both Android and Wince car stereo systems, and available for iPhone and Android phones.  
DAB+ Digital Radio (Extra DAB+ box NA7021B required)
Digital Audio Broadcasting presents you all variable stations in one single list and detailed information about the program you play with a much better reception quality, which gains a great deal of reputation in European countries mostly, but Canada, Australia, Mexico are all covered. 
OBD2 (Extra device required)
Compatible with most of Bluetooth type ELM327 OBD2 scanner and WIFI OBD2 (Search VE0003B/Y0034 on our store)
Compatible Application: Torque
Display Data: Real-time data and trouble codes from vehicle computers.
(Attention: Few cars may not support the ECU reading accessing, those cars will not work this function.)
Payment & Security