Description
Pumpkin 7" Android 9.0 Ford Focus/Mondeo/Galaxy/S-max Radio Head Unit with Reverse Camera CD Player

1. Applicable Models
The following car model and year are for reference, please make sure your original car head unit has the same shape as ours.
Ford Mondeo(2007-2011)             Ford S-max(2008-2012)
Ford Focus(2008-2010)                Ford Galaxy(2010-2012)

2. RDS/RBDS
Radio meets with subwoofer audio output
NXP's single-chip TEF6686 IC is adopted by this Pumpkin car infotainment radio for a wide tuning range of 87.5 MHz to 107.9 MHz (FM) and the AM receiver from 530 to 1710 (LW, MW to full SW) are all covered, which enables this infotainment media comes in low phase noise and fast tuning, even weak signal quality can be assured after being detected and processed. Subwoofer audio output is also achieved by this EQ. If you want to check on the radio station, music name and musician, RDS/RBDS comes so handy, as well as traffic reports.
3. Bluetooth here is not just for music playing
Bluetooth 4.0 is employed by Pumpkin car stereo head unit system supported by an independently developed module that comes with lower power consumption. Besides the welcomed music playing function, hands-free calling, synchronizing phone books, and quick searching for contacts are all supported with a built-in microphone. 
4. Google map-ready
Supports GPS Navigation, Pre-installed Google map(without offline map data). Both online navigation APP and offline are available, as well as 3D maps and voice guidance. Radio, Bluetooth, USB, and SD playing will not be interfered while navigating.  
5. WIFI-ready
With built-in WIFI modem, turn on WIFI function to search and connect to any free WIFI Hotspots, you can easily download any APPs or play music and videos online.
(Note: It comes with 1.5m long WIFI antenna for better signal reception.) 
6. Powerful Octa-Core processor
This Pumpkin aftermarket infotainment system is powered by an Octa-Core processor to bring you a quick response and consistent connectivity for a stream of radio news and weather reports, shared music playing, and APPs running.   
7. The fastest boot speed
This in-vehicle infotainment system only takes 1 second to boot after being installed while others may take about 30 seconds. 
8. Phone Mirroring
Mirror your phone's online GPS on this car audio system for a wider view of navigation outlook is the handiest use of this function.
For the Android phone, you can mirror and control the unit via USB cable connection. If using AirPlay for an iPhone, only mirror on the unit via WIFI  connection is available. (support Android 7.0)
9. Steering wheel control
Answer the phone call or adjust the radio volume while remains your eye's on the road is vitally important for the safety concern, with steering wheel control function, the safe drive is all under control. (Attention: Only support resistance based analog signal input steering wheel) 
10. Multi-color button  
To improve the visual appeal of your car inside, multiple colors of button light are optional to match the color of your car. 
11. AV Output
This car stereo infotainment system can output the DVD or AUX video to the headrest.
12. Support Android Auto APP (Extra device required)
An extra Pumpkin AutoPlay Dongle enables any Pumpkin car infotainment radio to install the APK from the TF/SD card it provided. This Dongle supports both Android and Wince car stereo systems, and available for iPhone and Android phones.  
13. DAB+ Digital Radio (Extra DAB+ box NA7021B required)
Digital Audio Broadcasting presents you all variable stations in one single list and detailed information about the program you play with a much better reception quality, which gains a great deal of reputation in European countries mostly, but Canada, Australia, Mexico are all covered.
14. OBD2 (Extra device required)
Compatible with most of Bluetooth type ELM327 OBD2 scanner and WIFI OBD2 (Search VE0003B/Y0034 on our store)
Compatible Application: Torque
Display Data: Real-time data and trouble codes from vehicle computers.
(Attention: Few cars may not support the ECU reading accessing, those cars will not work this function.)
Attention:
1. Please compare the dimensions, shape of our unit before purchasing, in case it does not fit for your car.
2. About Bluetooth audio player/Phone Book function, quick search contacts, this function can only be realized when your mobile phone supports Bluetooth Audio Output/Contacts Output.
3. Bluetooth function is just for audio stream transfer, it doesn't support file transfer or Internet tethering.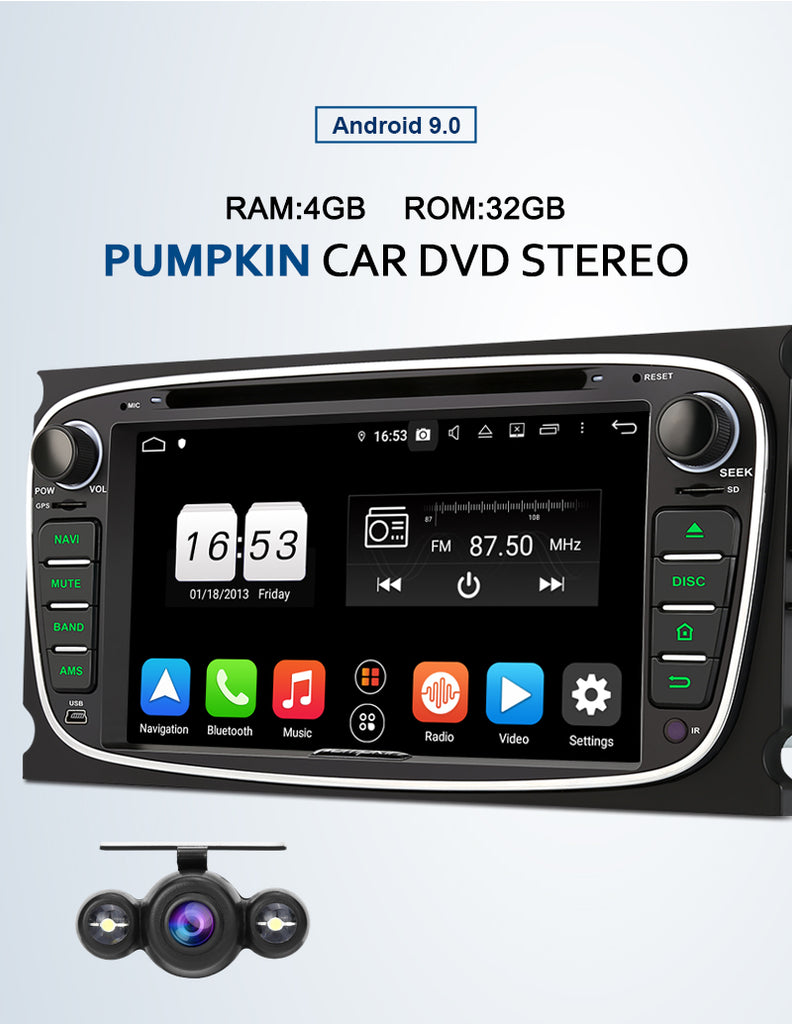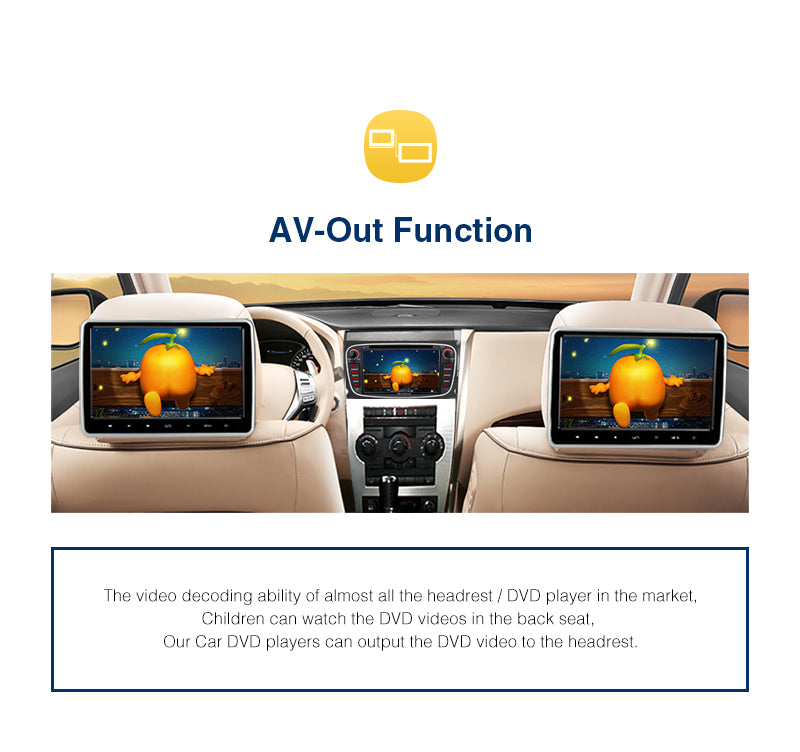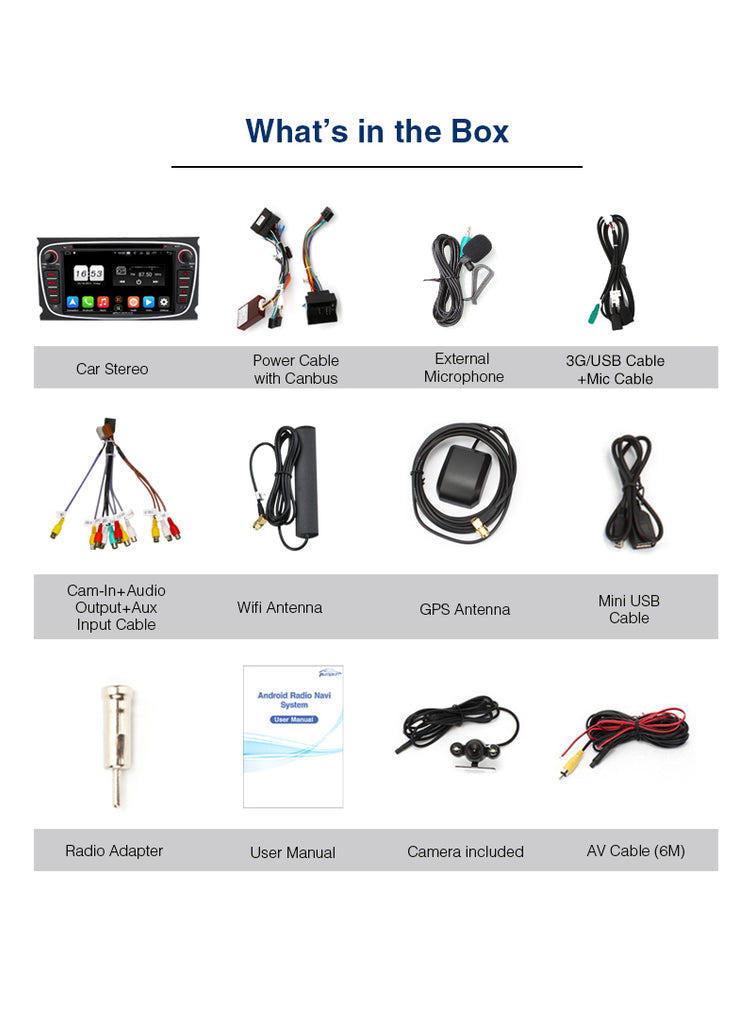 Specifications
Main

 

OS

Android 9.0 Pie

CPU

8-Core 64-bit CPU Coretex-A53 @1.5G

RAM

DDR3/4GB

Nand Memory

32GB

Radio IC

NXP TEF6686

Bluetooth

BT 4.0

Amplifier IC

TDA7851

Working Voltage

10.8~14.8V DC

Audio output

4*50W Max

Signal-to-noise ratio

>55db

Boot time

1 second

Screen

 

Size

7-inch digital screen

Resolution

1024*600

Touch Screen

Capacitive Touch Screen (5 points)

Image Brightness /Contrast/ Color

Adjustable

USB/SD

 

SD card/ USB drive

Up to 128 GB

Audio Formats

MP3/WMA/WAV/APE/FLAC/OGG/AC3, etc.

Video Formats

RMVB/AVI/MPG/MPEG/VOB/MOV/ASF/FLV/3GP/MP4, etc.

Radio

 

AM/FM tuner

Yes

RDS Radio

Yes

AM frequency range

522-1620 (Europe), 530-1710 (America), 522-1620 (Russia)

FM frequency range

87.5-108 (Europe), 87.5-107.9 (America), 65.0-108.0 (Russia)

OSD Language

 

English, German, French, Russian, Spanish, Turkish, Portuguese, Arabic, Chinese, Italian, Thai, Hebrew, Danish, Hungarian, Dutch, Polish, Finnish, Greek, Bulgarian, Belgian, Swedish, Japanese, etc.
Payment & Security