Description
Portable CD Player
16 Hours 

Long Battery Life

Built-in stereo dual speakers

Anti-shock time: 60 seconds
Brand: Pumpkin
SKU: 2PC0022B-P+2VM0404B
2×Best Portable Music Player 2020 Small CD Player with In Ear Headphones and 16 Hours Rechargeable Battery
Features

Compact & Portable: The portable music CD player designed with classical color, compact size, smooth appearance with perfect LED display that useful for kids and adults to study, gym or just enjoy the cd musik. 
Supports multiple audio formats, including the CD, MP3, WMA format for flexible options. It is a great choice as a gift for children, students, good friends, elders, etc. With compact palm size, you can enjoy music at any time and anywhere.
Long Battery Life: Built-in large capacity rechargeable lithium battery, the CD player could support up to 16 hours working time after once full charge.
Powerful Functions: 5 sound effects——BBS,POP,JAZZ,ROCK,CLASSIC;5 playback modes——Play in order,Repeat one song,Repeat all songs, Intro,Shuffle.
Super Anti-shock: Up to 100 seconds anti-skip protection for CDs and 180 seconds anti-skip protection for MP3 CDs, it is easy to carry wherever you go, let the music come into your daily life.
User-friendly: Backlight design for LED display and buttons, which can wake up the screen at any time to view the play information easily and convenient to operate.
Specification
Screen specification: segment display (white backlight)
Earphone power: 16mw+16mw (32Ω)
Working voltage: DC 5V
Frequency response: 20-20KHZ
Sampling frequency: 44.1KHZ
D/A conversion: 16 bit
Laser: semiconductor laser, wavelength: 780nm
Battery: 3.7V Li lon 1400MA
Charging time: > 4 hours
Playing time: about 16 hours
Working environment: temperature 5-40℃, humidity <90%
Anti-shock time: CD: 100 seconds MP3: 180 seconds
Color box size: 335*175*50 MM
Gross weight: 650 g
Package
2 * Portable CD player
2 * 3.9 feet USB cable(1.2m)
2 * 4.9 feet AUX cable(1.5m)
2 * Headphones(1.5m)
2 * User Manual
 Pictures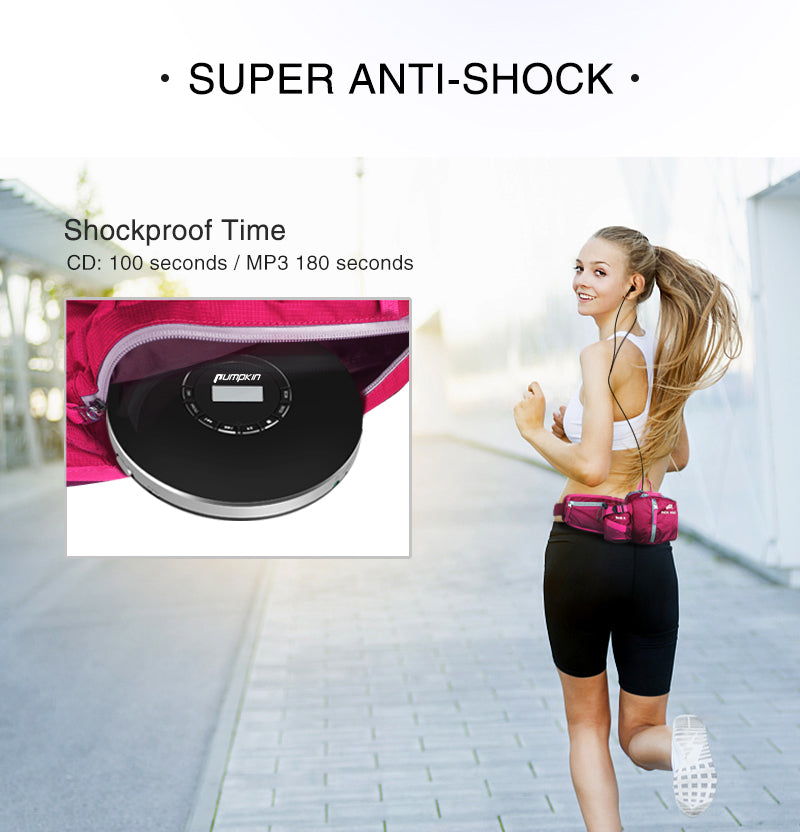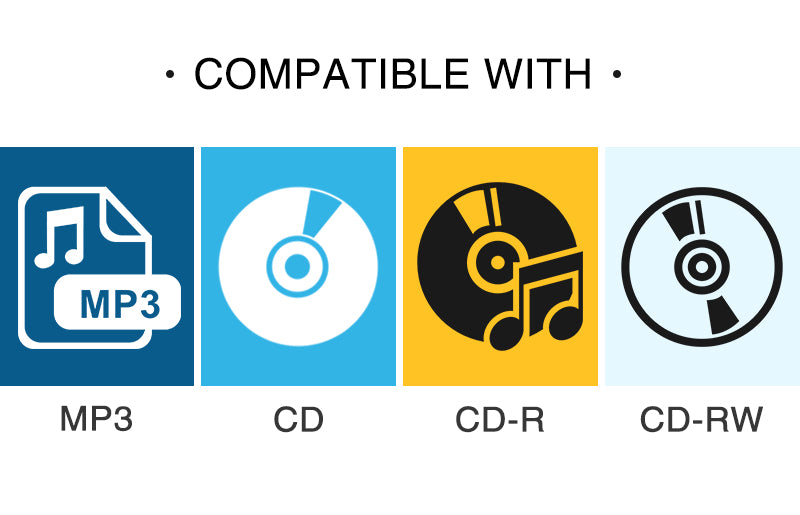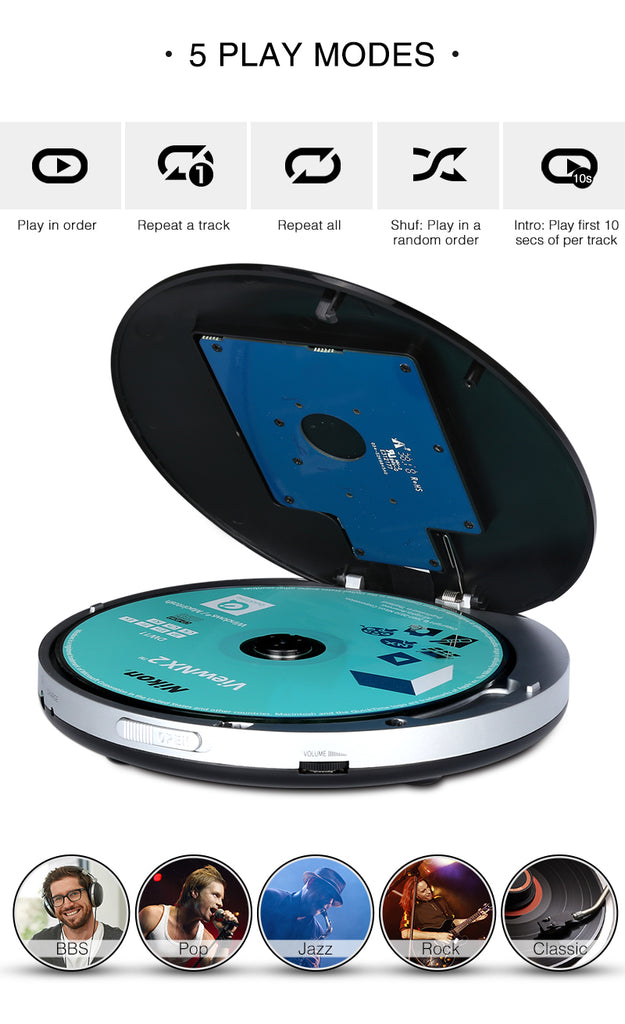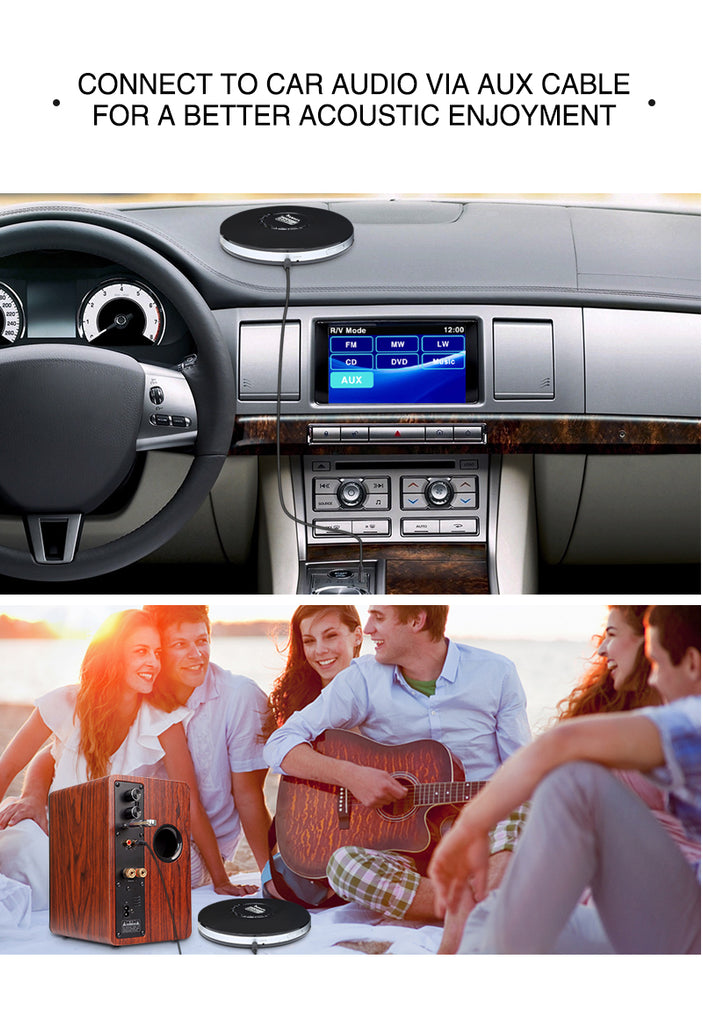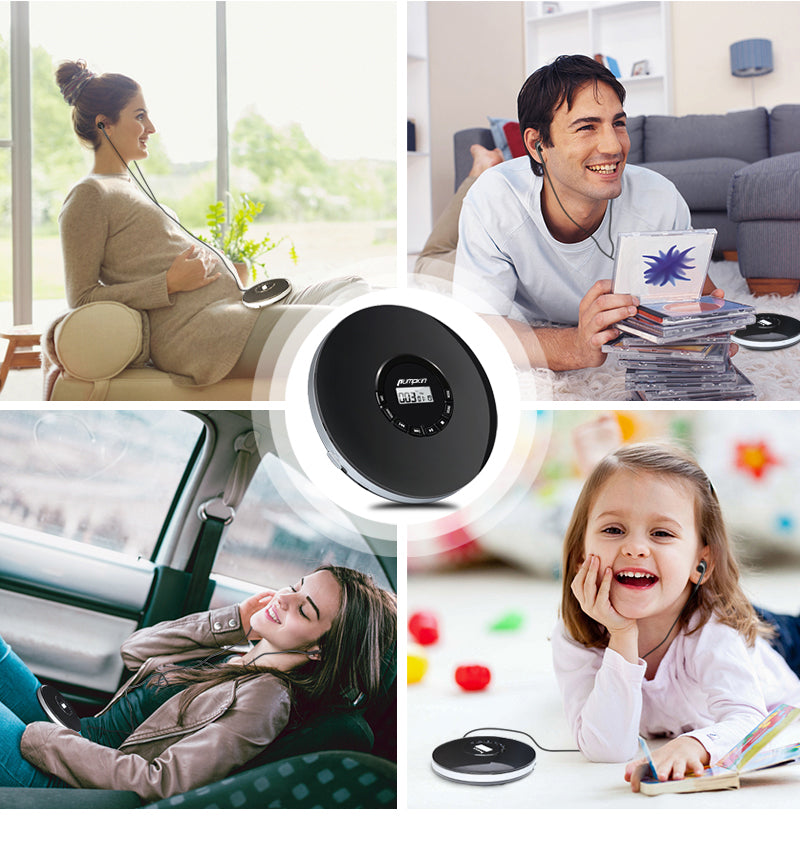 If you have any questions about the products or shipping, please feel free to contact us.
Shipping & Delivery
Attention: A remote shipping expense will be charged by the shipping agency if your ZIP code starts with No. 9. (For the US customers)
Payment & Security