Customer Review on Pumpkin Android Car GPS Radio for VW/Skoda
Monday, 11 July 2016 11:02:28 Europe/London
Auto Pumpkin always offer our customer as many choices as we can.So we always develop more and more car stereo dvd player with gps including double din dvd player,1 din car stereo,universal car stereo and car head unit for specific car models.
Today we'll check out what do our customers say about Pumpkin car stereo for VW/Skoda.The head unit we'll look into is the android 4.4 double din stereo for VW/Sokda--RQ0364E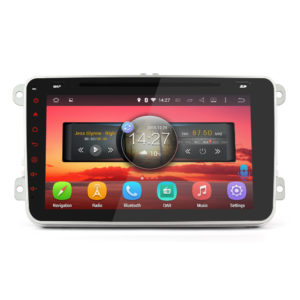 Android 4.4 Double Din Car Stereo for VW/Skoda
Android Car GPS for VW-RQ0364E installed in skoda octavia from 2009(to fit this car,our customer has used the special facial frame to fit our head unit) :
Before Installation After Installation
Bought this to be used in a 2007 VW Passat, and have been installed in 3 monts and 7000 km and 2 of this weeks I was on a Car holiday up and down in Norway.
Installation: This was almost stright forward. I had to make some extra power outlet for the 2to1 antenna adapter and the DAB+ antenna (the antenna that followed the DAB+ adapter, had poor reception so external antenna was fi aly mo ted)
Usage: finish of the unit is good, but touch buttons on the edge of screen is to close, so it easy to push the wrong button, maby split them up so you have half on each side is an idea.
Volume is almost imposseble to adjust, so you bether have stering weel remote. Or by the one with real buttons.
Menu: the menu is ok, can be a bit slow sometimes. I have had problems that Spotify can use 30 sek extra to boot up. In additon to that the unit uses aprox 30 sek to boot. The navigation can sometimes have a lot of lag. And the GPS antenna sometimes looses connections for 1-10 minutes.
The sound sometimes just comes out of front speakers. Then I have to go i. FM radio and close the program again.
The DAB+ program is a nightmare to use. Unlogichal user interface and very slow program if you want to do something in it.
Posetive side is that is cheaper then VAG units and uoy can install apps on it.
---by Customer
Very good product.It's works absolutely perfect!Great screen and sound.
Also I would like to tell about great after sale service. Whatever issues you got after sale team is always her to help in very polar and useful way!
---by Artjoms
Everthing perfect. Love it so much!
---by Cyber-josi
Took the plunge, ordered one, it arrived, installed it, sat back & was impressed. It fits in my B6 passat really well. The gap between the screen & the trim panel is pretty tight. The plastic is cheapy feeling but it's mostly hidden away.
The screen finish is glossy, the image is bright & clear. Nice fast refresh with no lag.
The steering wheel controls work, all the speakers work & no errors or messages on the dash
GPS locks on quickly, antenna is nice & discreet, much more accurate than my phone.
The sound quality is spot on, a step up from the basic VW unit. Good balanced sound, with enough power to drive the speakers happily.
The phone side works well, syncs contacts etc. The built in mic works fine, to mount the external mic on the A pillar I had to extend the wire, but the difference it makes to the sound on calls is worth the effort.
---by Tiggy

Auto Pumpkin has already released the android 5.1 version of this head unit.Here you can check the details: Android 5.1 Car DVD Player with GPS Double Din for VW/Skoda
Auto accessories that can work with this unit:Headrest monitor,Backup camera,3G dongle,DAB+ box,OBD dongle.
Pumpkin UK: www.autopumpkin.co.uk
Pumpkin DE: www.autopumpkin.de
Pumpkin US: www.autopumpkin.com
Posted in
News
By
sam chan
You must be logged in to post a comment.
click here to log in